Easter 2016 edition
Hello to regular e-Focus readers and welcome to new subscribers – more than 500 North Heaton residents now receive our e-Focus newsletter!
In addition to the regular local community news, we are taking the opportunity to remind residents that the local and police & crime commissioner elections are due to be held on May 5th.
We would like to encourage you to re-elect Doreen as one of North Heaton's three Councillors – enabling her to continue to serve our area alongside Greg Stone, and keeping the Lib Dem FOCUS Team working hard for you and for our area.
Best wishes, Doreen and Greg – Your local Lib Dem Councillors
Working for North Heaton all year round!
---
Polling Day is May 5th – Re-elect Doreen!
Local resident, Local campaigner, Local champion for our community!
An unrivalled record of working for North Heaton.
Our area's voice on the council – not the council's voice in our area!
A vote for Labour in North Heaton is a vote for higher council tax, less local say on council decisions affecting our area, less money for local community projects, less road and pavement repairs, and less street cleaning. Conservatives and UKIP can't win here – a vote for them only helps Labour.
Re-elect a councillor with a record of service and action: re-elect DOREEN!
Read More
---
FOCUS Action File
The resident survey responses
From our recent resident survey in Heaton.
Read in Full
---
Yes or No to Bumper Bins?
Our complaints about overflowing litter bins that are rarely emptied have been met with a response of sorts by the council – they are going to remove a number of street bins and replace them with giant-sized bins instead, on the grounds that they don't need emptying as frequently!
Read in Full
---
Labour PCC's SNAPS axe will damage fight against local crime
The successful Safer Neighbourhoods Action & Problem Solving (SNAPS) meetings between local police neighbourhood teams, councillors, and community organisations to design joined-up approaches to tackle crime and anti social behaviour in our area will stop in May.
Read in Full
---
Let's Stay Together: Boundary Review
we reported on the boundary review which will redraw council ward boundaries in 2018. We backed restoring a Heaton ward south of the Coast Road. However, our well-thought out proposal for a High Heaton & Cochrane Park ward keeping Jesmond Park West area, High Heaton estate, Cochrane Park and Haydon Grange together.
Read in Full
---
Doreen fights to save 553 bus (old number 3 service) – again!
DOREEN is fighting to protect the 553 bus service reintroduced in High Heaton and Cochrane Park following a long campaign by your Lib Dem FOCUS Team – the former number 3 service from Regent Centre to Walker via the Freeman Hospital and Benfield Road. The 18/32 "shopper" on Newton Road & Heaton Road to Shields Road may also be at risk.
Read in Full
---
Sackville Road's Yellow Lines
The council is currently advertising proposals to create additional double yellow lines at the junction of Sackville Road and Whitefield Terrace. This is not at our instigation but has come about from a request from Stagecoach due to the difficulties of the number 1 bus in making this turn – particularly when two buses cross here.
Read in Full
---
Doreen in housing call for Hospital land
Doreen is pressing the NHS for faster action to redevelop the vacant land at the Walkergate Hospital site. Doreen recently met with the chief executive of Newcastle NHS Hospitals Trust to discuss plans for part of the site – just outside the North Heaton ward boundary – which has been empty for several years despite being vacated by the NHS.
Read in Full
---
Standing Tall
Last year your North Heaton Councillors DOREEN and GREG joined Lib Dem colleagues for Dene Ward to allocate funds from the council's Wellbeing Fund for a scheme to prevent falls and injuries in elderly people.
Read in Full
---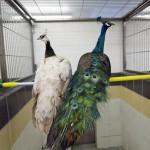 Notorious fugitive apprehended!
We were pleased to see on a recent visit to Jesmond Dene that Peter the Peacock is safely back in his enclosure with his girlfriend Perrie!
Read in Full
---